This morning I took my car to the dealer for its routine 5000 mile maintenance (oil change, tire rotation, and "quality vehicle inspection").  I had just sat down when I saw the service rep came toward me, not with bad news about a major car problem, but to share with me a "fantastic new program for loyal customers
:  an "Advantage Program" that offered me discounts on services, plus "rewards points" good toward tires, major services, and even the purchase of another vehicle!  For a one-time-only fee of $19.95!  Plus tax.
In the overall scheme of things, $19.95 isn't a lot of money, and the discounts and rewards sounded OK, but it was 7:10 a.m., so I said, "can I let you know later today?"  "Oh, yes," he replied, "we'll just add it to your invoice when you pick up the car."  So I took the shiny brochure and stuffed it in my purse.
Around 10:30 a.m. the rep called to let me know that the car was ready, and to find out if I had decided to take the "Advantage Plan."  I told him that I would let them know later.  "No problem, we'll just add it on…"
Over the course of the rest of the morning I looked at the brochure, and thought '$19.95, and I get 5% off of each future service… that seems OK…'  until I finally decided to crunch the numbers:
Recouping the $19.95 + tax (approx. $22.00 total):
In the time I have owned the car, I've averaged about two routine service visits per year. The dealer charges about $36 for the service, plus $20 for the oil and shop supplies.  The "plan" offers a 5% service discount, which I am guessing does not include the oil and parts charges, so 5% of $36 = $1.80 discount per service visit.  At that rate, it will take about 12 routine visits to recoup $22.00.  At 2 service visits per year, that's 6 years.
Earning $500 off of my next car:
For each dollar I spend for service, I earn 20¢ toward my next car, up to $500.  In order to earn the full $500, I must spend $2500 for service.  At about $34 per service it will take me 74 routine services to earn the "money."  At 2 services per year, that's 37 years!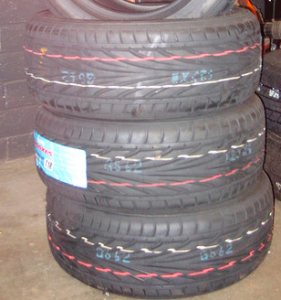 Earning $80 toward a new set of four tires: For each dollar that I spend for service, I earn 5¢ toward a tire purchase, up to $20 per tire.  So, I have to spend $1600 for service to get $80 off of a full set.  Using the math above, that's about 44 routine services, or 22 years.
Since I bought this car in 2007, I have taken it to this dealer for routine service.  I always knew that I was paying more than if I had gone anywhere else, but the dealer is convenient, the service guys are nice, and there is a shuttle to ferry me to and from the office.
But, suddenly, I feel betrayed.  After more than five years, the dealer had chosen to "repay" my loyalty not with some wonderful freebie, but with a faux "rewards" program.
But the dealer's plan has back-fired!  As I started examining what I had been spending for routine service, it finally dawned on me that "the #1 volume dealer" doesn't think of me as a loyal customer – he thinks of me as "volume."  As a sucker ready to be soaked again!
So, I am keeping my $19.95 +tax, and, from now on, I'm having my services done at my neighborhood garage.  It is friendly and family-owned. There is no shuttle, but I can walk back to my house.  And, I'll save $20.00 per service – that's $500 in only 11 years, or $80 in only 1.8 years  — about the time that my current tires will probably need to be replaced – and I can buy them anywhere that I want to, because my $80 will be cash, not dealer rewards points.  Now THAT'S an "Advantage Program!"